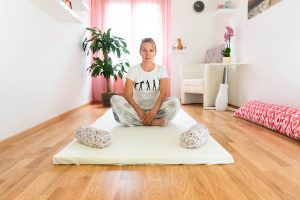 I am Tünde Straub, III Dan Yumeiho therapist.
I first came into contact with this type of massage as a patient. I could feel the fantastic effect on my own body, then my husband, who had to deal with back and spinal problems, also tried it out. After seeing that Yumeiho was a real gift for him, I decided to learn this massage to help my loved ones in the family. (In Japan, massage within the family is a tradition). At first massage was just a hobby for me, but then I noticed that massage and the related training courses had become part of my life. It is a wonderful feeling to see that this technique can help a pain-stricken person so effectively.
In the courses of Róbert Lampert and Péter Paulics I got my II and III Dan certificates. It is a tremendous feeling to be able to learn from those people who were still able to work with the developer of this method and thus, in keeping with tradition, pass on their knowledge.
I decided to only deal with this – in the past I was in a leading position in finance – and to continue my education in the fields of health and prevention.
In my opinion, the Yumeiho massage combines so many techniques and organizes them in a system so that their effectiveness cannot be compared to any other massage technique.